When it comes to eating ice cream in Downey, there's surely no shortage of options. We wrote this official guide to the best ice cream in Downey to help weed out the contenders from the pretenders.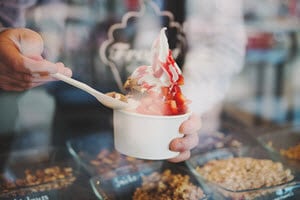 If you're looking for handcrafted ice cream flavors, there's nowhere like Afters Ice Cream. What do they have? Here's an overview: Vietnamese Coffee, Madagascar Vanilla, Strawberry Crunch, Churro, Big Stix, Peanut Butter S'mores, Mint Monster, Milk & Cereal, Cookie Monster, Jasmine Milk Tea, Triple C's, Cookie Butter, Banana Walnut Fudge, Almond Cookie, Acai Blueberry, and plenty more. Salivating yet?
If a list like that doesn't whet your appetite, then we don't know what will…there's no hope left for you.
In addition to their location near Downey, HONEYMEE has other spots all over Orange County and the rest of Southern California. They're even about to open a branch in Thailand, should you require a familiar taste of fresh milk and natural honey ice cream while you're traveling abroad. That's exciting!
That's right, all their milk is fresh, sourced directly from kosher-certified dairy factories in California. And their honey is natural, too; it's harvested from the honeycombs of various high-quality apiaries.
Would you like to know a bit more about the history of Saffron Spot? Good, because we love to talk about it. In the late 1990s, the proprietor began making ice cream at home. By April 2001, he had launched a full wholesale ice cream supply company. And in August 2005, they opened the doors to their retail location. You can enjoy their tasty flavors from 11:00 AM to 10:00 PM Friday to Sunday.
Check Out Our Blog to Learn About Other Cool Places near Downey CA!
Eventually, you'll get sick of eating ice cream; it's simply the way these things work. If you'd like to learn about different restaurants, businesses, and activities in the Downey area, read our blog now.