With SUVs such as the Santa Fe and the Tucson, Hyundai has long been offering drivers functional and powerful options. Nevertheless, they may be a bit too bulky for some in the Cerritos, Long Beach, Anaheim, and Downey areas.
If you'd prefer your SUV functionality in a smaller, more maneuverable package, the all-new 2018 Hyundai Kona is for you. Check out this preview by the Norm Reeves Hyundai Superstore Cerritos team for your first look!
The Perfect Vehicle for Adventure: 2018 Hyundai Kona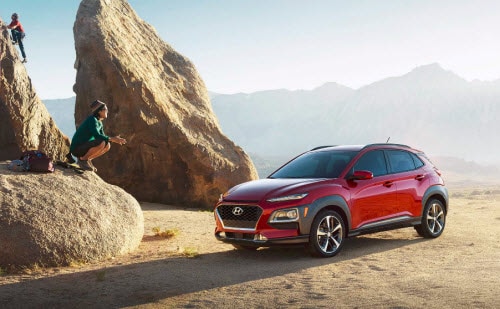 In Southern California, there's plenty of opportunity for adventure close at hand. You might be taking a trip to the beach, or heading off-road for a day of hiking or rock-climbing. In either case, you'll have plenty of gear to cart around.
The 2018 Hyundai Kona is an excellent choice for these outings for several reasons. To start, the size is just right. It's slated to offer ample passenger room and plenty of cargo room. Nevertheless, the crossover's body is compact enough to maneuver and park in a city setting.
Another big boon is that the Hyundai Kona includes a multi-link rear suspension and available all-wheel drive system. These features really lend themselves to that maneuverability, ensuring that the handling in the Kona is just as good.
The Hyundai Kona Powertrain
The standard powertrain in the Hyundai Kona comes with a 2.0L 4-cylinder engine and a 6-speed automatic transmission. This combo certainly generates a respectable amount of power (while maintaining good efficiency, too). However, some drivers may prefer more muscle.
Fortunately, the Kona also gas a 1.6L turbocharged 4-cylinder option, with an upgrade to a 7-speed transmission. The presence of turbocharging is sure to greatly amp up Hyundai Kona horsepower.
Rugged & Sleek: Hyundai Kona Design
The 2018 Hyundai Kona seems to settle at the intersection between a purely rugged body and some sleeker designed options. It has an ample wheelbase and plenty of ground clearance, for example, but still adds in a heap of exterior accents.
The sculpted, swooping hood of the Kona slopes easily into a bold, black front fascia. This is complete with sharp, angular lights and a bold grille.
Equally bold are the color options available for the Kona. In this crossover, you can add in a vibrant lime green, sky blue, or a darker, classic red. Whatever suits your tastes!
A High-Tech Crossover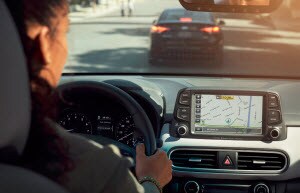 Technology is a key player in all the best cars these days. And it's set to play just as big of a role in the 2018 Hyundai Kona.
First and foremost, you'll have plenty of entertainment features to choose from. Android Auto™ and Apple CarPlay™ come standard with the 7-inch touchscreen. However, you can also add in an 8-inch navigation system, and even wireless charging.
There's also a fair amount of intuitive safety technology. Available Hyundai SmartSense™, for instance, features forward collision/avoidance assist with pedestrian detection.
Stay Up to Date on the 2018 Hyundai Kona
Though it's not quite here yet, the 2018 Hyundai Kona, which is expected to arrive in Spring 2018, looks like a phenomenal addition to the Hyundai lineup.
Cerritos, Long Beach, Anaheim, and Downey drivers can learn more about this compact SUV by getting in touch with the Norm Reeves Hyundai Superstore Cerritos team. Contact us today for more information.